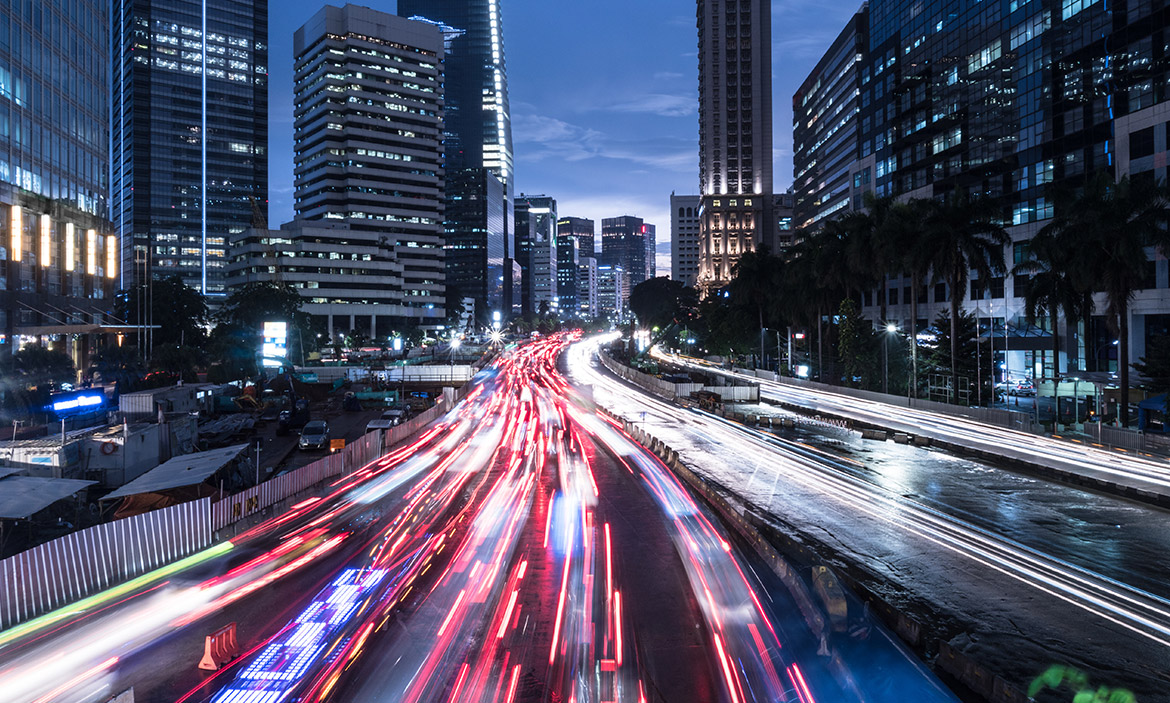 Indonesia is Southeast Asia's largest economy with a GDP of $888 billion (based on ppp), ranking 10th in the world and averaging over 5% growth over the last decade. In the last 18 months, growth has slowed to below 5% and is projected by the World Bank to be 4.7% for 2015. President Joko Widodo (known as "Jokowi") took office in October 2014 and has pledged to improve infrastructure and reduce barriers to doing business in Indonesia as a means to increase the country's GDP growth rate to 7% by 2017.
Over the past decade Indonesia has enjoyed steady economic growth, though less than needed to pull the country into upper middle-income status, and the rate of growth is slowing. Sound macroeconomic policies, combined with growing domestic demand and high commodity prices, propelled economic expansion in recent years, but protectionist policies, corruption at all levels of government, poor infrastructure, weak rule of law, and labor rigidity have taken their toll.
The business environment in Indonesia can be challenging, with Indonesia ranked 114 out of 189 countries in the Ease of Doing Business 2015 report by the World Bank. U.S firms can encounter complex bureaucratic and regulatory requirements which make it time-consuming to enter the market.
On that note, here are five tips for Foreign SMEs looking to expand to Indonesia.
1. Have a local contact who knows your industry
The successful overseas businesses that have entered Indonesia in recent years have generally recruited local entrepreneurs to tap into their experience in the Indonesian market. The Indonesian market can be very confusing for a lot of foreign investors when they first arrived. Although improving, significant rule-of-law issues persist. It can be conflicting like Indonesia has begun
to implement local content requirements that prevent some foreign products from being sold in Indonesia. What's best for any company is to either have a local contact with good experience in their industry in Indonesia, or to partner up with a local company who already has the business connections or management skills. It will really helped in order to find new clients and navigate the unique challenges of the local market..
2. Don't take the large population for granted
One of the biggest dangers for overseas businesses looking to invest in Indonesia is being overly optimistic about how successful they'll be because of the large population.
250 million Indonesians sounds big, but a lot of people don't realize that it's a very fragmented market because of geography. Most of the population is concentrated on the island of Java, but there are also big population centers in Sumatra and Sulawesi.
Local market dynamics also present obstacles to foreign investors taking advantage of the large consumer base. Domestic firms have a pretty strong influence right across Indonesia, and the government still looks to protect Indonesian small businesses from foreign competition.
In one of these measures, the minimum total investment before SMEs can do business in Indonesia is IDR 10,000,000,000 (ten billion Rupiah). 25% of total investment, i.e. IDR 2,500,000,000, shall be injected as equity and the remaining balance may be injected as shareholder loan.
While attracting foreign investment is a priority, SMEs currently planning to expand to Indonesia will need to be savvy with the investment they make.
3. Navigating geography
Part of this savviness is in deciding where to set up shop. Most of foreign SMEs have chosen to manage their Indonesian operations in Jakarta because, it's where the big money is.
But this presents challenges for businesses whose product or services need space, such as agriculture. Navigating geography is a key skill of entrepreneurs with this type of business.
Being close to the decision-makers and clients is important, and most of them are in Jakarta, but sometimes those decision-makers are influenced by people on the ground.
Logistics can also be a problem because Indonesian infrastructure and service networks have not been developed the best at this point. Thus it is really important to know where your market is, consider travel costs and distribution channels to make sure your costs don't blow out.
4. Build good relationships with your overseas staff
A key point to come out is how Indonesians value foreigners insights. Take the goodwill of Indonesian people at face value. Some of the companies that already in Indonesia have strong cross-cultural training programs in Indonesia and overseas, said that Indonesian staff appreciated working for foreign companies.
5. Be aware, but not put off, by politics
While diplomatic problems may occur or defined some countries' recent relationship with Indonesia, the small businesses exporting to Indonesia has remained consistent.
There's no reason why this shouldn't also be the case for businesses who establish a physical presence here. SMEs would be aware of those political factors definitely, but the business activity doesn't really drop off. There's a lot of exporters doing really well in Indonesia, and some of the companies have their rates of return are high compared to China and India.