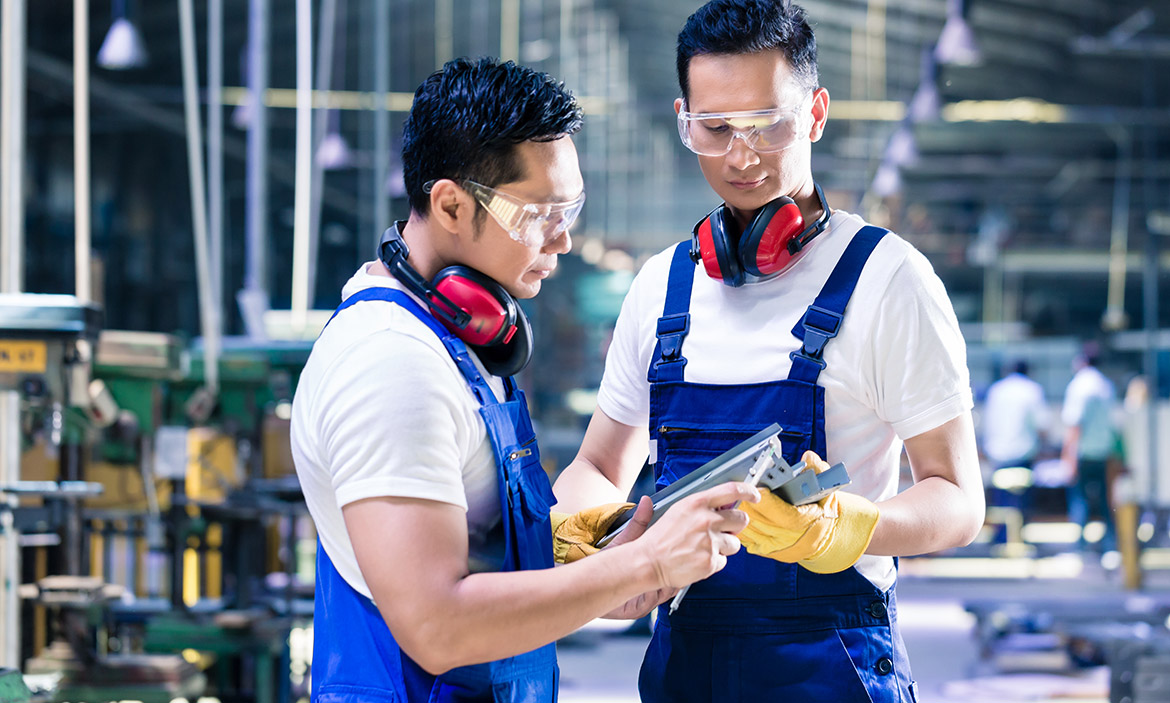 Manufacturing
Indonesia is keen to diversify and develop its manufacturing sector and transform its low-value manufacturing capabilities to more high-value products.
The government hopes this can be achieved through developing the automotive industries, chemical manufacturing, and electronics through the Making Indonesia 4.0 roadmap.
The sector currently contributes to 20 percent of GDP and employs 15 percent of the workforce, with the government aiming to increase this to 25 percent of GDP by 2030, turning Indonesia into a manufacturing hub by 2030 that rivals Germany and South Korea.
Indonesia's main areas of production are in electronics, automotive, textiles and garments, footwear, food and beverages, and chemicals. These sub-sectors are dominated (99 percent) by micro, small, or medium enterprises (MSMEs).
The majority of the manufacturing hubs in the country are located on the island of Java, which accounts for 58 percent of total GDP. The government is trying to expand this to other regions of the country.
Infrastructure
During President Joko Widodo's first term (2014-2019) he announced an ambitious infrastructure plan worth US$350 billion. Now into his second term, the government intends to spend another US$400 billion on infrastructure projects across the country.
This includes developing 25 new airports, waste-to-energy facilities, as well as mass transit projects. The government will also build 2,600 km (1,600 miles) of new highways and construct 35,000 MW of electricity plants. Further, the construction of the new capital city on the island of Borneo will begin in 2021, which is set to cost US$33 billion.
Some 40 percent of the cost of these projects will be funded by the government, 25 percent through state-owned companies, and the rest from the private sector.
Digital economy-based industries
By 2025, Indonesia's digital economy will be estimated to be worth US$130 billion, making it ASEAN's largest.
E-commerce will play a leading role in this sector, with over 170 million people already engaging in some form of online shopping. This industry is expected to reach US$40 billion by 2022.
In May 2020, the government issued Reg 50/2020, which provides the legal guidelines for international and domestic businesses that are trading through electronic systems (e-commerce).
Moreover, in June 2020, the country's Director General of Tax issued Reg 12/2020, which sets out the criteria for foreign digital service providers to collect VAT in Indonesia. From July 2020, a 10 percent VAT rate will be applied to businesses that have a 'significant economic presence' in Indonesia, covering software providers, multimedia, and big data firms, among others.
Indonesia joins other ASEAN members Malaysia and Singapore in trying to increase tax revenues through new channels.
In addition to e-commerce, 5G industries, telemedicine, online education, and electronic payment systems are some of the new sub-sectors that show huge potential growth in the country. Despite Indonesia being the world's second-largest cash-based economy, changing consumer behavior accelerated by the pandemic has forced communities to embrace more digital solutions.
Healthcare and pharmaceuticals
Given its large market-size, Indonesia's healthcare sector presents a lucrative opportunity for foreign investors.
The government's annual spending on healthcare has skyrocketed since the implementation of the universal healthcare program (BPJS) in 2014, which has now grown to be the world's largest, covering some 200 million people. Every citizen and expatriate are mandated to join, and companies must register their employees to the program, paying a percentage of the premiums.
Increasing spending on healthcare will impact important sub-sectors such as the medical devices industry, which was valued at US$4.5 billion in 2019. The majority of this, US$2.8 billion, was from imports. Indonesia mainly imports sophisticated medical instruments such as PET-CT scanners and ICU equipment and exports low-tech equipment, such as gloves and syringes.
The pharmaceutical industry is dominated by generic drugs (70 percent) with the remainder from over the counter (OTC) drugs. The BPJS program has boosted sales of generic drugs in the country, valued at more than US$700 million.
However, the industry is highly dependent on imports of raw materials, which prompted the government to enact reforms and allow foreign investors 100 percent ownership of factories that produce these essential raw materials. Additionally, there is a new demand for more niche products outside of generics, in particular those that treat lifestyle and chronic related diseases.
As part of ongoing reforms within the industry, foreign investors can now have up to 67 percent ownership of private hospitals. This increases to 70 percent if the investor is from an ASEAN country. This is also the case for clinics although foreign investors are limited to owning specialized clinics and not those that provide basic medical services.
Fast-moving consumer goods
Indonesia's middle-class of 70 million has become the backbone of the country's fast-moving consumer (FMCG) market.
Foreign investors will find potential growth in the modern retail sector, as the retail landscape is slowly expanding away from Greater Jakarta to regional capital cities across the country, such as Banda Aceh, and Bandung.
The spread of modern retail has seen the food and beverage segment reap most of the benefits with large multinationals such as McDonald's, KFC, Burger King, Coca-Cola, gaining the first-mover advantage in the country.
Growing purchasing power has also benefited the fashion segment. Japan's Fast Retailing Co opened four stores in 2013 and by 2020 has over 30 spread through second and third-tier cities in Indonesia. Another segment benefitting from the expansion of modern retail is the cosmetics industry which saw sales of over US$1.2 billion prior to the pandemic.
In recent years, the FMCG industry has been enacting reforms to cater to an increasingly Halal conscious consumer market.  The government finally issued the Halal Law in October 2019, mandating consumer products and their related services to be Halal-certified.
This initially applies to food and beverages, but cosmetics and drug products will have to comply by 2022.
The government has embarked on an ambitious push to establish Indonesia as the world's largest international Halal market, hoping to capture a large chunk of the US$2.1 trillion global Halal economy. The government hopes the country's Shariah economy will add 100,000 jobs and contribute US$11 billion in exports.